I am linking up with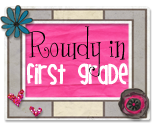 to tell you something good about school and home life!
I love this positive linky party!
Something Good from Home:
I ran 5 miles yesterday all by myself! (I think that is the most I have ever ran at one time in my entire adult life.....what an accomplishment!) I am NOT going to tell you how long it took me to complete this task. I'll leave that up to your imagination!
Something Good from School:
My class brought the most boxtops for December and won a party. They voted to wear their PJ's and take a NAP!?!? I was beyond thrilled and shocked. What six year old volunteers to take a nap? My class has an old soul, I tell you.
It turned out to be the cutest party ever. We had milk and cookies, shared our favorite bedtime story, and took a "nap"
Can you believe they actually laid down to try to take a nap? Once again, this class surprised me.
No one actually fell asleep. It turned into a 15 minute giggle fest....teacher included :)
Tell me what's good in your life?
Link up
here
.